Greetings
And welcome to the lair of Cyani Black – author, keeper of dragons and tormentor of souls. Characters' souls that is, unless you're willing to volunteer…
Come closer and enter The Parlor at your own risk to delve into the cryptic workings of fiction, the chaos of nature and the churning ever-changing cauldron of Cyani's interests.
Brush past the bats to explore the Library where you'll find her fantasy, urban fantasy and horror novels, works in progress and download gifts. Be forewarned, once snared in her worlds, you might never escape…
The Latest Greatest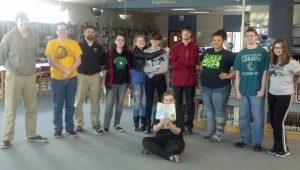 Thank you to Mr. Sabo for inviting me to visit with his creative writing class! They're a fantastic bunch of young folk destined to be the next-gen of spidery spinners of tales and weavers of worlds. Beware, my dear readers, for one day they shall catch you.