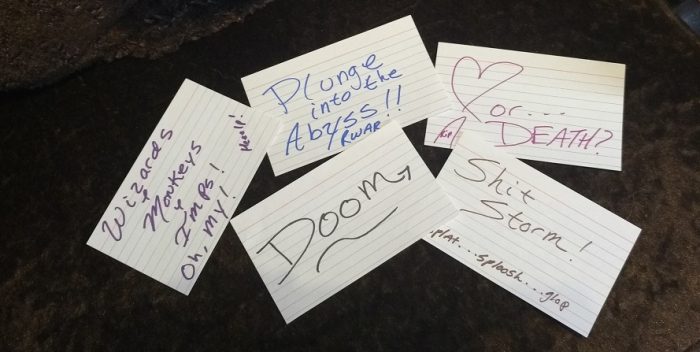 Hell for your characters that is 🙂
Those seemingly benign lined cards are a perfect tool of torment! Wield them right and the characters will writhe until the very end and with them the most precious of all tormentees – the reader.
Just how do you use these office supplies for creating doom? Why, any way that's effective for you as an author. Here's how I use them.
Once the main forces of my novel are set in my head and I have a solid grasp of the characters, plot and The End, I unsheath the Sharpies and haul out the cards. Then it's time to plot out the gritty and the nitty for the battle plan! Each card represents a scene and each Sharpie color represents a character VP (View Point) so they can be easily tracked on the field. As scenes are written, it becomes clear which are essential, which can be combined and which are not necessary. There's something strangely satisfying in wadding up a 3×5 whilst proclaiming "Haha! Your redundancy is futile!"
Then, I spread them out on the battle field, check for any gaps and create new scenes to strengthen the whole. This gives me a broad view to assess any weaknesses, where the story might lag, where it needs more speed, less speed, and balance the Force of tension and release.
Once their formation is complete and I'm satisfied with their placement it's time to pile them up in order and take them to the computer. As powerful as 3x5s are they're too small to contain exact marching orders, so these are plugged into the manuscript and include everything that the scene is supposed to accomplish – the emotions, the character innards and outters, foreshadows, clues, twists and troubles. As the scenes are briefed, they're allotted into chapters.
And then…it's time to write!
Let the games begin! Muahahahah!