Please welcome Sheila Abbott, owner of Furrville! She makes wonderful, handmade hats and cute, fuzzy tails. My daughter has one of her black cat hats and not only does she love it but it's sturdy.
Take it away, Sheila!
What got you interested in doing what you do? Speaking of that, what DO you do? 😉 
I started going to anime cons and fell in love with the furry leggings, ears and such that I saw. I decided that since I wasn't working and was looking to start a business, that this would be perfect for me as I enjoy making these pieces and they are fun. I love going to cons and I love meeting new people and I really love the excitement from those who see a hat and love it. I love making people smile and that makes the pin stabs, scissor cuts and broken needles worth it. What do I do? I make fun hats out of fleece material and I put either cat, puppy or long ears on them. Some hats are simple (fleece hat with pink fleece inner cat ears), some have cotton material for inner ears (fleece hat with perhaps candy corn material for inner ears) and then some have embroidered designs – usually those are requested. Recently I did a super awesome one – white fleece hat with puppy ears and embroidered black eyes on it – I called it 'Spooky'. Oh, I also make kitty tails out of fleece or faux fur. The leggings and headbands are also made out of faux fur.
Is there something that keeps you going when you're having one of those days?
Just 'one' of those days? lol  Well, sheer determination to succeed is what puts my butt in the chair every day and pushes me to sew something – even if it's just a test run on a new idea.
What's the coolest thing you ever made?
I personally love the hat with long ears I made – my daughter keeps trying to steal it…lol…or maybe it was the animal print doll dress with matching leggings and cuffs…hard choice!! lol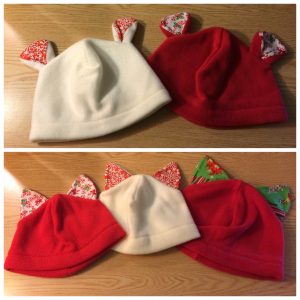 What would you love to make but haven't made yet?
I would love to make a hoodie with animal ears.
What's the most rewarding thing about working independently?
My own schedule – freedom to come and go. I get to see more of my family than I would working a 9-5 job.
What do you feel is the most difficult aspect of running your own business?
Staying on target. You have to be disciplined even when it's warm and sunny outside.
Were there surprises along the way? Things involved in your business that you didn't expect when you started?
Well, when I first started I didn't know how to sew or embroider so having to learn both was a huge stepping stone for me. But, I did it and today I am making my own designs.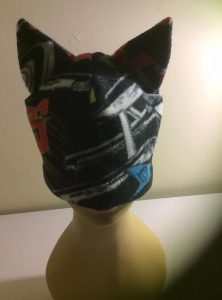 Do you do custom work? If so, what's your preferred way for people to contact you?
Yes I do!! You can contact me thru either Facebook or Etsy
Where do you get inspiration for your projects?
Honestly, the smiles on the faces of those who are so excited to see their finished piece or sets. That makes my day.
What are some of your hobbies?
I love photography, scuba diving and playing World of Warcraft with my daughter.
What do you like to do when you're able to eke in time just for you?
Read, Write, play World of Warcraft, watch movies…
What drives you to continue, to press on in a sometimes challenging industry?
I want to succeed…I don't want to fail…
Do you have any goal setting or time management tips you'd like to share that help you accomplish your goals?
I follow a routine every day – I won't lie, there are days when that routine gets pushed but, I find it's easier to stay focused and to finish projects if I follow a routine.
Are there any hints or tips you'd like to offer others who are interested in pursuing a career on the art side?
Stay positive. There will be many who will try and put you or your work down and you need to have thicker skin for the naysayers. You got this. You can do it.
Where can we stalk you on the web?
Etsy Store: www.etsy.com/shop/furrville
Facebook Page: www.facebook.com/furrville
Twitter: @Furrville